Star Mobile Home Supplies Blog
Winterizing a mobile home is a top to bottom process to ensure cold air stays out, warm air stays in, and plumbing and HVAC functions smoothly throughout.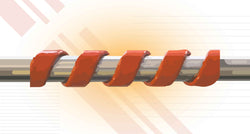 Mobile home heat tape — often sold as spools of "self-regulating heat cable" — uses thermostatically controlled electric heat to prevent frozen and bursting pipes in the winter. Installing or replacing it as a precautionary measure during late summer or early fall can prevent much suffering later.